PARIS (AP) – Police were in effect across France on Saturday as protesters staged a sometimes restless fourth round of demonstrations across the country against President Emmanuel Macron's plans to overhaul the country's pension system.
More than 960,000 people marched in Paris, Nice, Marseille, Toulouse, Nantes and other cities, according to the Interior Ministry. Protesters had hoped to keep pressure on the government to back down, and further action is planned for February 16.
In the French capital, authorities accounted for around 93,000 participants, the biggest demonstration in Paris against pension changes since protests began last month.
The demonstrations over the weekend attracted young people and others opposed to the social security proposals who could not attend the previous three days of action, all held during the week.
This time, however, the railway strikes did not accompany the demonstrations, allowing trains and the Paris metro to run on Saturday. However, an unexpected strike by air traffic controllers meant that up to half of flights to and from Paris' second-largest airport, Orly, were canceled on Saturday afternoon.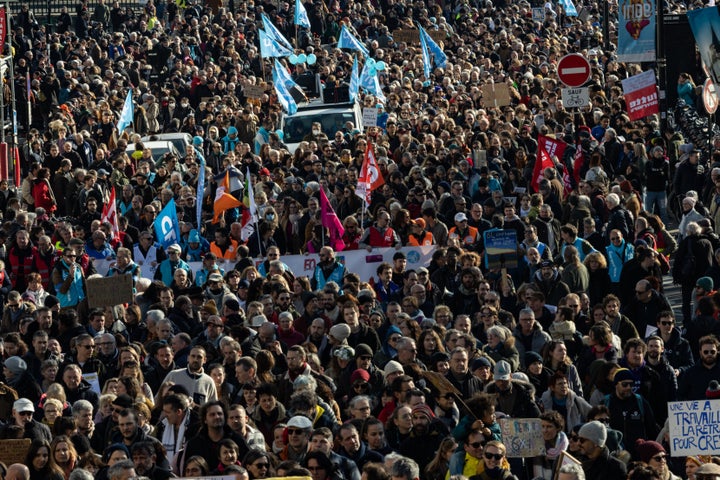 In Paris, some workers and students who wanted to express opposition attended the protests for the first time, due to the heavy workload during the week.
"We often hear that we should be too young to care, but with rising inflation, rising electricity prices, this reform will affect our families," said Elisa Haddad, 18. "It's my first demonstration because I couldn't attend with the uni. It is important that the voice of parents and students (from France) is heard."
French lawmakers began an acrimonious debate earlier this week over the pension bill to raise the minimum retirement age for a full state pension from 62 to 64. It is the main legislation of Macron's second term.
Saturday's protests featured flashes of unrest. A car and several rubbish bins were set on fire on a central Paris avenue as police attacked the crowd and dispersed protesters with tear gas. Paris police said officers arrested eight people for offenses ranging from possession of a firearm to vandalism.
Some demonstrators walked like families through Place de la Republique, in the French capital, and carried emotional signs. "I don't want my parents to die on the job," said one of them, held by a teenager.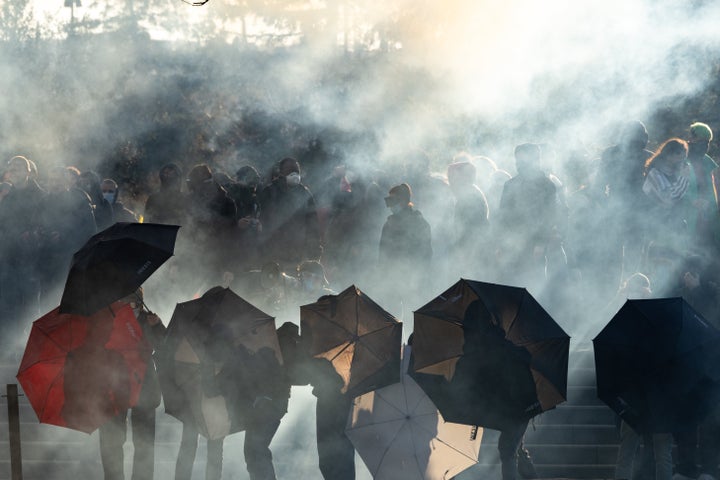 The protests are a crucial test for both Macron and his opponents. The government insists it is determined to fulfill Macron's election promise to overhaul France's generous pension system. Of the 38 member nations of the Organization for Economic Co-operation and Development, France is among the countries that spend the most years in retirement.
The president called the reforms "indispensable" to ensure the long-term survival of the country's pension system and noted that workers in neighboring countries retire years later.
Despite opinion polls consistently showing growing opposition to reform and his own dwindling popularity, Macron has insisted he is fulfilling an important campaign promise he made when he came to power in 2017 and ahead of his re-election in April 2022.
His government now faces a tough political battle in parliament that could last weeks or months.
Strong popular resentment will bolster efforts by unions and left-wing lawmakers to try to block the bill.
The unions issued a joint statement on Saturday, calling the government "deaf" and demanding that French authorities scrap the bill. They threatened to cause a nationwide "shutdown" from March 7 if their demands were not met.
During the previous day of protests four days ago, more than 750,000 people marched in many French cities, significantly less than the previous two days of protest in January, in which more than a million people took to the streets.
Nico Garriga in Paris contributed.