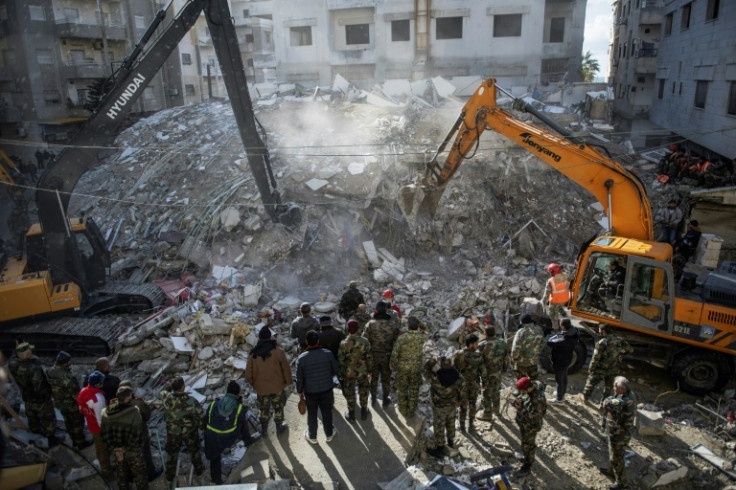 KEY POINTS
An anonymous Pakistani went to the Turkish embassy in the United States to donate $30 million
Pakistan launched a special committee to raise donations for earthquake victims
Turkey has recorded 29,605 deaths in the quake, while Syria has recorded 3,553 deaths so far.
A Pakistani man living in the United States has donated a staggering $30 million to help victims of the 7.8 magnitude earthquake that hit Turkey and Syria last week, with the death toll rising to more than 33,000.
Pakistani Prime Minister Shehbaz Sharif posted on his Twitter account on Saturday that an anonymous donor went to the Turkish embassy in the United States to deliver the donation.
"Deeply moved by the example of an anonymous Pakistani who walked into the Turkish embassy in the United States and donated $30 million to earthquake victims in Turkey and Syria," Sharif said.
"These are such glorious acts of philanthropy that they allow humanity to triumph over seemingly insurmountable odds," added the prime minister.
Sharif formed a special cabinet committee at home to oversee fundraising for earthquake victims.
Pakistan recently sent two more relief teams to Turkey, while its Air Force transported 16.5 tonnes of humanitarian aid donated by the Pakistani people, Turkish news agency Anadolu Agency reported.
The outpouring of donations for earthquake victims came as more deaths were reported a week after the disaster.
According to the New York Post, at least 29,605 have been killed in Turkey, while Syria has reported a death toll of 3,553 so far.
Rescue efforts for potential survivors are still ongoing as rescuers keep their hopes alive after a 7-month-old baby was successfully pulled from the rubble.
Video footage from the Turkish Ministry of Health showed that a girl was found alive in the southern Turkish city of Hatay on Sunday, 139 hours after the earthquake, The Guardian reported.
A 10-year-old girl also survived the ordeal after rescue workers pulled her through a hole in the floor of a damaged building. She had been buried for 147 hours.
But experts have expressed their concern as the possibility of finding survivors starts to decrease day by day. According to them, the survival rate of people trapped after an earthquake is 74% in 24 hours, but drops to 22% after 72 hours and only 6% after 60 hours.
Also adding to first responders' frustration are threats to their safety.
German-led rescue operations in Turkey were suspended on Saturday due to security concerns, CNN reported.
United Hatzalah, an Israeli search and rescue group, has halted its rescue operations in Turkey after receiving "concrete intelligence" that there is a threat to the security of the Israeli delegation.
In Syria, Western politics and sanctions have become obstacles to humanitarian aid reaching the quake-hit country.
The first UN convoy carrying aid to Syria took three days to cross the Bab al-Hawa pass, which is the only humanitarian corridor between Turkey and Syria.
Syrian President Bashar al-Assad also criticized Western countries for their lack of humanitarian assistance to his country, saying they "have no regard for the human condition".