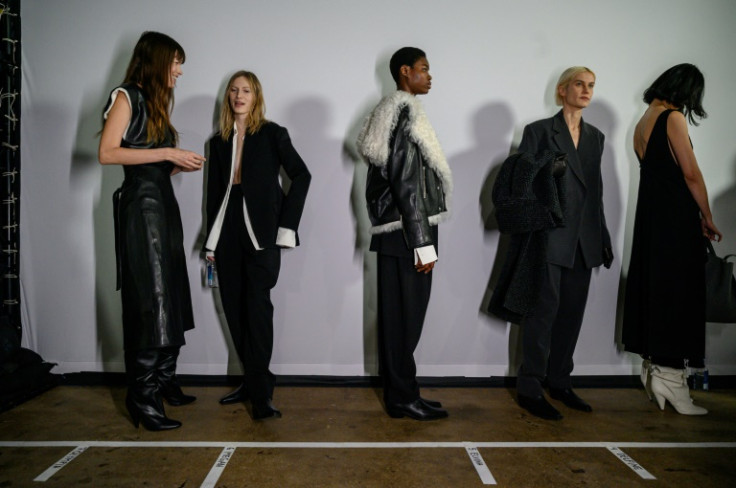 US fashion house Proenza Schouler on Saturday unveiled a low-key, functional collection, without the conceptual ostentation of the past, as the brand marks its 20th anniversary at New York Fashion Week.
This year, designers Lazaro Hernandez and Jack McCollough said they broke with their typical creative process.
For the most part, "we get involved as a narrative or a theme or a vibe," Hernandez said after Saturday's show.
"This season… we literally started with headshots of the women in our lives that we admire and respect on a personal level, on a stylistic level."
Among them was American actress Chloe Sevigny, who opened the show on Saturday wearing a pantsuit and a long leather skirt, a material used prominently in the collection.
Long an avant-garde and conceptual brand, Proenza Schouler has evolved in recent years to build a more pragmatic wardrobe. This fall and winter 2023 collection looks to be the culmination of that trend.
"We're tired of all this Instagram costume and clothing," Hernandez said.
The collection – clothes with character but less swagger – includes several relatively classic pantsuits and many below-the-knee skirts, accented with high boots, often in leather.
Still, Proenza has not abandoned sophistication.
Flowing dresses burst into multicolored petals as the models walked the runway.
A bright yellow suit featured a wide collar that extended past the shoulder, while the flap of an asymmetrical dress fell along one arm.
The designers have shown that they know how, with a light touch, to subtly transform a silhouette.
The 20th Anniversary Collection opened "a new chapter for us," said McCollough. "It's like the beginning of something else. Something maybe more adult. We grew up in front of all of you. It's time to grow up and be an adult."
He said that Proenza's new way of designing its clothing was both attractive and liberating.
"Sometimes the theme can be good and you have a device to exploit. But it's also liberating to just get rid of it completely," McCollough said.
"And just think about individual clothes and a woman's spirit."