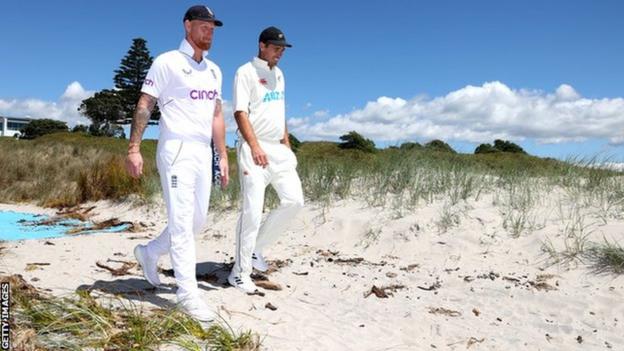 Captain Ben Stokes says he doesn't know the limit of what England can achieve as they look to carry their impressive form into the two-Test series in New Zealand.
England have won nine of the last 10 Test matches in thrilling fashion.
The first Test against the Black Caps, a day-nighter at Mount Maunganui, starts on Thursday at 01:00 GMT.
"Everything went well and we're going to try to implement the same things we did," the all-rounder told BBC Sport.
"We will try to entertain the people who come to see us and who stay up late at home.
"Hopefully we can go there with the same mentality and mentality as we had in the previous 10 tests."
England's stellar form included chasing 299 in 50 overs on the last day of the second Test against New Zealand in June, and then successfully chasing an English record 378 to beat India at Edgbaston.
In the first Test against Pakistan in December, they amassed 506-4 on day one in Rawalpindi, putting them on course for a historic 3-0 series win.
Asked how far his team could take their aggressive style, Stokes said: "That's a good question and an answer I can't give because I don't know. Who knows where this team could go?"
England named Stuart Broad in their XI after the pace player missed the tour of Pakistan following the birth of their daughter, a decision Stokes called "very easy".
"There hasn't really been a second thought to picking the team when Broady is around," said Stokes.
New Zealand will make a Test debut to follow bowler Blair Tickner, 29, after Kyle Jamieson and Matt Henry were dropped earlier in the week.
There could also be a debut for Jacob Duffy or Scott Kuggeleijn, who joined the Blacks Caps squad on Tuesday night to provide bowling cover.
The home team resisted recalling Trent Boult, who is fourth on their list of all-time Test players, but pulled out of his central contract last year.
The match continues despite New Zealand being in a state of emergency after Cyclone Gabrielle made landfall in the northern part of the country.
Mount Maunganui escaped the worst weather. Teams were able to have net sessions on Monday and Tuesday, then practice in bright sunshine on Wednesday.
"We were lucky there was a tent over the nets so we were able to practice," said Stokes. "The cyclone didn't help with the preparation, but when you look at what it did, there are far more important things than getting a test crew together."
England have not won a test in New Zealand since winning the series 2-0 in 2008. They drew 0-0 in 2013 and lost 1-0 in 2018 and 2019.
This series is not part of the Test World Championship, the final of which England cannot reach despite their impressive form.
Stokes took over as captain after a miserable run in which England only won the Test in 17. Despite the turnaround in results and the manner in which they were achieved, the captain does not believe his team are playing under the pressure of anticipation.
"I don't go out thinking about sustaining that, but sustaining the way we play," said the 31-year-old. "If you play good cricket it will dictate the result.
"Regardless of how you try to operate in a test, if you don't play with the features you want, you probably won't come out on top."
England's revolution and the birth of their swashbuckling style came early last summer with a 3-0 victory over New Zealand.
Since then, the Black Caps have lost not only Boult, but also the all-rounder Colin de Grandhomme, who retired from international cricket.
Kane Williamson stepped down as Test captain in December and was replaced by Tim Southee, who is expected to lead a home match for the first time.
"It's quite a challenge to play against a team that play great cricket," said Southee.
"I'm really excited about the upcoming Test matches. It's always something to look forward to, it's always played in good spirits and the teams get along really well. It's a series the guys are looking forward to."