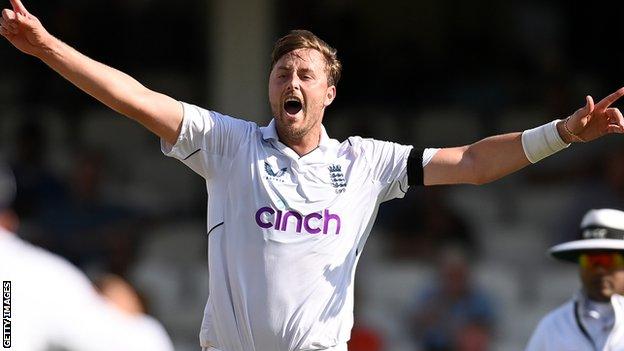 England rhythm bowler Ollie Robinson says Test cricket doesn't need "gimmicky" day and night games.
England's first Test in a two-match series against New Zealand at Mount Maunganui on Thursday (01:00 GMT) is a night day, played under floodlights with a pink ball.
"For starters, there's nothing wrong with Test cricket," said Robinson.
"I'm not a big pink ball fan. I don't think we need to play these pink ball games."
Daytime matches are common in limited match cricket and were introduced in the longer form of the game with the aim of raising the profile of Test cricket by increasing attendance and TV audiences.
There have been 20 men's day and night tests since the first in 2015, played in seven different countries by 10 different teams.
They have proved popular in Australia, where there have been 11 day-nighters, all of which have been won by the home team, including two in the 2021-22 Ashes series. There have also been three women's day and night tests in Australia.
England's men have played six Daytimes and won just one – the first and only one they played at home – against the West Indies in 2017. In the only Daytime Test they have played in New Zealand, in 2018, they were bowled out for 58 as part of the defeat by an entry.
And Robinson, 29, believes England's enterprising style of cricket, which has seen them win nine of their last 10 matches, is enough to attract fans to the Test format.
"It's a little tricky. They're trying to attract crowds and change the game a little bit, but the way England are playing Test cricket at the moment I don't think that needs to happen," said Robinson.
"We could stay where we're going and entertain people as we are, so I'm not sure that's necessary."
England traveled to Mount Maunganui on Sunday just before ex-cyclone Gabrielle is expected to hit the Bay of Plenty, where is the seaside town.
With heavy rains and strong winds expected to hit the region in the coming days, preparations for the Test could be seriously affected. Although the Bay Oval has covered grass nets, England are unlikely to train on Monday.
"We are well aware that it can be tricky to get there," said Robinson, who has taken 60 wickets in 14 Tests.
"If we don't train before Thursday, I feel like we've had good preparation and we're ready to go."
With England looking to reclaim the Ashes this summer, Robinson could line up alongside Steve Smith in the County Championship following the Australian slugger's deal to join Sussex on a three-match deal in May.
Robinson faced Smith less than a year ago and says he sees the former Australia captain's arrival as an opportunity to learn rather than a risk.
"People know how I bowl and what I do, so hopefully I can use that to my advantage," Robinson said. "He's changed his technique quite a bit, so any kind of tip or point I can get from him could be valuable for us.
"I'm excited about the opportunity to play with him. I look forward to learning a little more about him.
"Sometimes I've found it weird to bowl, so it would be nice to watch him a little closer and see if I can learn more about his hitting and ways to get him out."