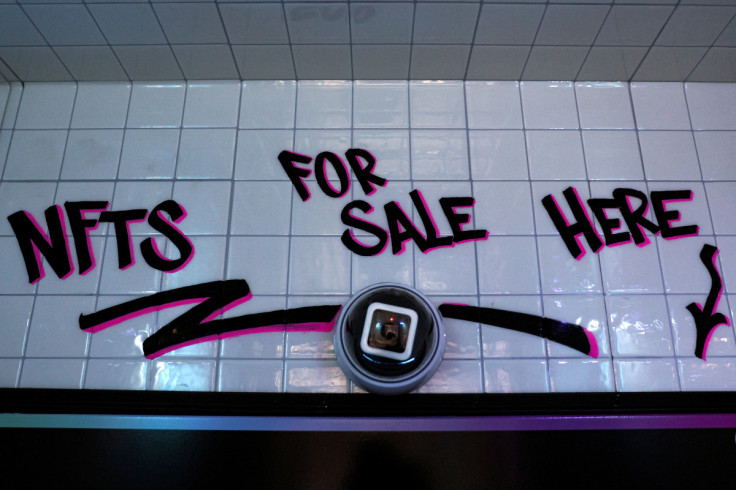 Is alive! The NFT market is emerging from its slumber, defying reports of its demise.
Total NFT sales on the ethereum blockchain — which hosts the most trades — jumped to $780.2 million in January from $546.9 million the previous month, according to market tracker CryptoSlam.
The digital art collectibles were among the big hits. "Bored Ape Yacht Club #5840" – a cartoon monkey shooting green lasers from its eyes – sold for $822,730, for example, while "CryptoPunks #7674" – a pixelated character smoking a pipe – sold for $433,555.
The average NFT selling price was a more modest $372.38, according to CryptoSlam.
The $780 million in sales last month is a fraction of the roughly $5 billion seen last January and $2.7 billion in May, before the non-fungibles market plummeted along with much of the cryptocurrency world.
However, the market has been pulling back since November after hitting a low of $324 million the previous month, according to data from CryptoSlam, with some traders betting on a future for NFTs across games and brands.
"We'll see another 2021-style race when we're able to really bring the next big wave of participants into the space," said Teng Yan, principal investigator at Delphi Digital, estimating that there are between 30,000 to 50,000 people who are actively trading NFTs right now.
MYSTERY AND AIR
Despite the nascent leap, the future of non-fungible tokens remains shrouded in mystery. Few cryptocurrency experts expect a repeat of the 2021 boom any time soon. Some doubt the long-term appeal of paying to be registered on the blockchain as the owner of a digital file that anyone can view online for free.
Saro McKenna, CEO of NFT metaverse and blockchain gaming company Alien Worlds, said NFTs have the potential to help businesses and celebrities engage with customers and fans.
"The most promising aspect of this technology will be as more and more Disneys and Dua Lipas around the world increasingly turn to NFTs," added McKenna.
Some market participants said the January increase in NFT sales volumes was also driven by the entry of a new online marketplace, Blur, which has attracted investor interest since it launched late last year and announced a series of "airdrops" of free coins and other rewards.
NFT trading volumes on Blur's platform totaled 101.2 million over the past seven days, up slightly from the $100.4 million seen on the mainstream OpenSea market, according to data from DappRadar.
In the last 30 days, however, OpenSea remains at the top, with volumes of US$ 443.98 million, against US$ 366 million for Blur.
BITCOIN JOINS THE NFT PARTY
In another non-fungible development, the new use of the bitcoin blockchain to mint an NFT collection has caused an uproar among cryptocurrency enthusiasts.
Bitcoin Punks is a series of monkey-themed NFTs and a derivative of the popular CryptoPunks collection. Some media reports have indicated that Bitcoin Punk NFT is being sold for as much as 9.5 bitcoins, worth $205,000.
"We're going through a bit of a phase for this because it's just new, it's a novelty, and people are rushing to try and be the first people to mint NFTs on bitcoin," said Delphi Digital's Teng Yan, noting that there was no market. for bitcoin NFTs, with all transactions done over the counter.
"The hype will subside in the coming weeks."