Hundreds of grassroots referees have told the BBC they fear for their safety when refereeing and are unhappy with current measures to tackle abuse.
More than 900 referees in England responded to a Radio 5 Live survey, with 293 saying they had been physically abused by spectators, players, coaches or officials.
Some described being punched, headbutted and spat upon.
Almost all respondents experienced some form of verbal abuse.
The president of the Umpires Association of England, which distributed the questionnaire to its 7,000 members, says the abuse of referees is having a significant impact on their mental health and they are only "one decision away from a slap in the mouth".
"One day, in this country, a referee will lose his life. It happened in Holland a few years ago and they really changed their football culture," said Paul Field.
The Football Association (FA) says a small minority of people abuse referees, but such behavior is "completely unacceptable".
He pledged to "continue to do everything we can" to end it, including stronger sanctions and the launch of a three-year strategy to help address the problem.
a test of referees using body cameras in adult grassroots football is planned to start this year.
Field said anyone banned from the grassroots for abusing referees should not be allowed to attend any matches and urged the FA to inform elite clubs, with the aim of preventing them from buying tickets to matches.
He said the behavior of some parents off the field was "shocking", while players often imitate the behavior of top professionals who question decisions.
A total of 122 referees aged 17 or under responded to the questionnaire – over 100 said they had been verbally abused by coaches/officials (105), spectators (109) or players (102).
What the questionnaire revealed
Of the 927 respondents, 908 said they had experienced

verbal abuse

of spectators, players, coaches or managers.

Many (778) were

sworn in

during arbitration, while 375 received personal abuse about things like appearance, gender, race or sexual orientation.

About 293 experienced

physical abuse

of spectators, players, coaches or managers.

A

threat of violence

against them or their loved ones were made against 283 of the respondents.

Verbal or physical abuse negatively affected

mental health

out of 361 who answered the questionnaire,.

There were 57 people who received a

death threat

against them or their loved ones.

The amount of abuse against referees is worse now than it was five years ago, according to 440 of those surveyed.

Of the 927 referees, 378 said they were "often" or "sometimes" concerned about their safety.

Many respondents (506) were moderately or very dissatisfied with the measures being taken to tackle referee abuse by the FA.
*Questionnaire numbers are not statistically representative.
What the referees say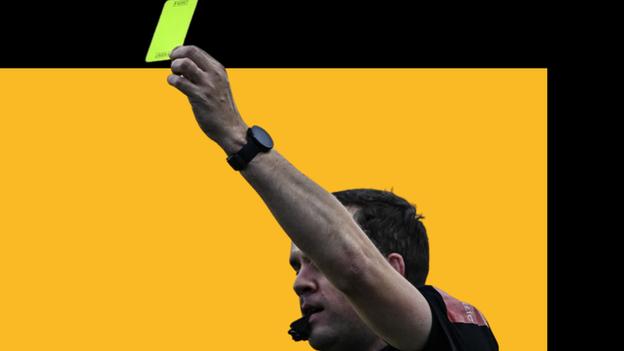 Ryan, 30, from Lancashire, once had to hide in a side street for an hour after being chased by players.
"Every week when you go out as a referee you think about what's going to happen this week. Sometimes I don't want to show up. It's really cold and you're going to be there for 90 minutes to be abused, for £30, that's what you get ", he said.
"Without a referee appearing at the weekend, you won't have football and the roots will end up going down the abyss."
He asked referees to be given body cameras, which the FA expects pilot in a test this year.
Megan, 18, from Oxfordshire, saw a parent take to the pitch with fists raised after she kicked a son out.
"He was shouting insults at me and saying this is why girls shouldn't be in football," she said.
"I think he was suspended for six matches and fined, but that's not enough.
"It was probably the scariest experience I've ever had when I was watching, playing or refereeing football. It really had an impact on my mental health, I was worried the whole time. I took two weeks off and worked my way back.
"All referees are abused and I am also abused because of my gender – I'm a woman in a male-dominated area. I've had people commenting on my chest in the middle of a game."
Adrian, 59, Portsmouth: "In nearly 24 years of refereeing I have been threatened, verbally abused, told they know where I live, I have also been assaulted five times. Why I continue I don't know – suppose the love of football."
Bill, 74, Leamington Spa: "I was prevented from driving my car by players lying in front of my car and jumping on the hood. A few years ago I was punched in the back and kicked to the ground. I don't look my age and I have extensive experience with a good reputation so I can handle it. of myself. But the younger referees are leaving.
Joe, 18, Romford: "I was assaulted by an adult player when I was 16, threatened multiple times by managers and parents. me in the parking lot. The players also said so.
"We need legislation at government level to give us protection. The police need to consider assaults on referees as a criminal matter and not just 'a football matter' and the FA needs to invest more and increase sanctions."
Jacob, 15, Essex: "I've had under-13 players swear at me and parents undermining my authority."
'Players have a responsibility to tone it down' – Sutton
Former Premier League striker Chris Sutton – whose father was a referee – was asked by Radio 5 Live to referee their first match, a junior game, to find out what it's like on the other side.
"Any form of abuse is totally unacceptable," said the former Norwich, Blackburn, Celtic and Chelsea striker, who presents the BBC's football program 606.
"It's a problem that needs to be solved, otherwise grassroots football will not survive."
Sutton has admitted to having previously confronted a young referee while watching his son play and now wants to resolve the issue.
"I entered the field because I was worried about the severity of the injury. I shouldn't have done that. I know how difficult it is," he said.
Sutton said players of all levels should stop cursing referees.
"We see the Premier League and other professional players doing this regularly. I've done this. It's not right and all players have a responsibility to tone it down."
What does the FA say?
An FA spokesman said: "We have over 28,000 referees in England and they are the lifeblood of our game.
"We understand the challenges some of them face and we make it very clear that all forms of abuse, on or off the pitch, are completely unacceptable.
"While it's only a small minority of people who misbehave with referees, that's still a lot, and we will continue to do everything we can to root this behavior out of our game.
"Through stronger sanctions, cutting-edge innovations and a new three-year arbitration strategy coming soon, we are determined to address this issue and build a safer and more inclusive environment for our arbitrators to have happy and rewarding long-term experiences as arbitrators. ".
*BBC Radio 5 Live sent the questionnaire through the Umpires Association of England to its 7,000 members.
It was also sent to the Umpires Association of Northern Ireland and the Umpires Association of Wales, but insufficient responses were received. There is no independent referees' association for Scotland and the Scottish FA has refused to send it to its referees.