Local:
Principality Stadium, Cardiff
Date:
Saturday, February 25th
Start:
16:45 GMT
Roof:
Live on BBC One, S4C, BBC Radio Wales, BBC Radio Cymru and Radio 5 Sports Extra, the BBC Sport website and app; live text commentary on the BBC Sport website and app. Highlights and analysis, Scrum V Six Nations, BBC Two Wales, Sunday 26 February
Manager Warren Gatland says he remains confident Wales' match against England will take place next Saturday.
This was despite a potential attack from the Wales players, who Alun Wyn Jones said was a real threat but was the "last option".
Players are in contention with Welsh rugby bosses over contracts, with a deadline of Wednesday to resolve the issues.
"Hopefully the game will be close," said Gatland.
"I've seen this kind of thing happen in the past and I'm confident the game will go on.
"The boys have been great in training. I just need to put all that aside and focus on the game."
Should the England match not go ahead, Welsh rugby would lose almost £10m in revenue from the game.
Gatland says he supports the Wales players in their long-term falling out but would not support a goal in the England game.
Contract chaos engulfs countless players – estimates are between 70 and 100 – whose current contracts expire at the end of this season and have yet to receive offers from their regional teams.
A new six-year financial agreement between the Welsh Rugby Union (WRU) and the four regions of Wales – Dragons, Cardiff, Ospreys and Scarlets – has yet to be signed after months of discussion, and the clock is ticking.
Regions are bracing for financial cuts, but no game budget has been finalized for next season, so no contracts can be formally offered.
Malcolm Wall, chairman of the Professional Rugby Board (PRB), which negotiates the future of the Welsh professional game, said this week: "The cold facts are that the WRU and clubs have been paying wages that their businesses cannot afford. maneuver when it comes to the available budget for player contracts."
WRU interim chief executive Nigel Walker met members of the Wales squad this week and discussions will continue with the Welsh Rugby Players Association (WRPA).
"It's been a challenging few weeks," added Gatland.
"Sometimes it focuses the mind and gives you the determination to focus on your work.
"This is to prepare the team in the best possible way for next week.
"There's no question that there must be some stress on people in terms of the future and what's happening in the regions.
"They weren't able to offer contracts and the uncertainty about the deal and everything that was created.
"It puts stress on a lot of the people involved. Not just the players, but also the people involved with the union and the regions."
'Lock them in a room to sort things out'
Gatland says problems are resolved more quickly in his native New Zealand.
"I come from a country where you're in the middle of a crisis, you put everyone in a room and you solve the problem in 24 hours," added Gatland.
"New Zealand's strength has always been its ability to change and change quickly.
"I don't know why you can't just lock yourself in a room for 48 or 72 hours and come up with a solution.
"Everyone has to compromise. You have smart, successful entrepreneurs who need to come in and find a solution quickly.
"I don't know why things took so long, but we are seeing the result now because the negotiations have been going on for a long time.
"Probably the tendon of Welsh rugby is that change is like a slow train trying to go somewhere. Effecting change in Wales is time consuming."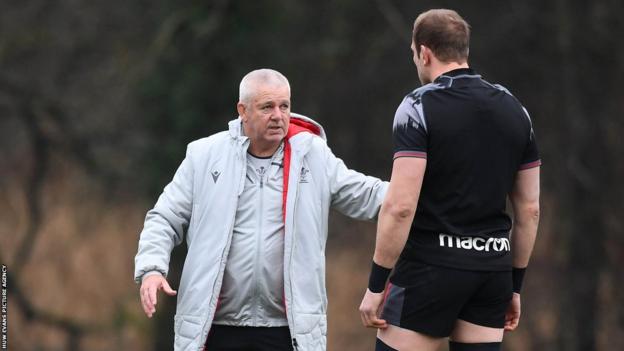 The WRU has found itself in turmoil in recent weeks, with a sexism scandal unearthed by a BBC Wales investigative program that resulted in the resignation of chief executive Steve Phillips and an independent task force investigating the organisation's culture.
"Many have been critical of the union on governance but they have gone to the clubs once and asked for recommendations and changes and have not been able to get this voted on," added Gatland.
"Everyone in the game needs to take responsibility, not just the union that has had problems in recent weeks.
"We have to take away our parochialism and self-interest. I've always been a big advocate of that. Let's make the best decisions for the game.
"Sometimes that means decisions that affect us and we don't get the deals we want. You have to accept that because I hope it's the best decision for the game.
"If that means it's not in the interest of the national team but it's in the interest of Wales then that's the sort of thing we should be doing."
'60 limits rule not fit for purpose'
It is understood that players want three main things by Wednesday. A seat on PRB meetings, the removal of the controversial 60 caps selection rule in Wales and a rethink on contracts offered because of variable fixed elements which make up 20% of wages.
The 60 match rule applies to a player playing outside the country who cannot be selected unless he has made at least that number of Test appearances.
Gatland has questioned whether the policy remains fit for purpose after it was introduced in 2017 when he was in his first stint as head coach.
"It was fit for purpose when it was introduced," added Gatland.
"Ironically it was called Gatland's Law. My pitch at the time was to look at Australia where it's 30 games and I thought it was appropriate.
"Regions wanted 70, we ended up with 60, but I'm not sure it's fit for purpose right now. So there's an opportunity in the current situation to potentially get rid of that."