Melt them down and turn them into Crocs? Scratch off the label and hope no one notices?
What Adidas should do with all its unsold Yeezys is a €1.2bn ($1.3bn, £1bn) question that no one seems to have a very good answer to. The brand is in jeopardy after cutting ties with Kanye West in October over his anti-Semitic remarks.
The rapper, who now goes by Ye, was a huge profit maker for the company. A pair of their chunky rubber Yeezy 350 V2s went for around $220 (and often resold for many times their retail price). Ye rescued Adidas, revamping the brand's image and allowing it to compete with heavy hitters like Nike's Air Jordans. After Ye's string of pro-Nazi rants, that image is in tatters, with Adidas shares plunging 10% last week after the company announced its potential loss of revenue.
It also triggered an ethical dilemma. How does Adidas dispose of the items that caused a PR nightmare without triggering another wasteful outrage? It is the first major leadership test for the company's new CEO, Bjørn Gulden, fresh from a job at Puma.
"The numbers speak for themselves. Right now we are not performing as well as we should," said Gulden, who started in January. "2023 will be a transition year to set the foundation to become a growing and profitable company again."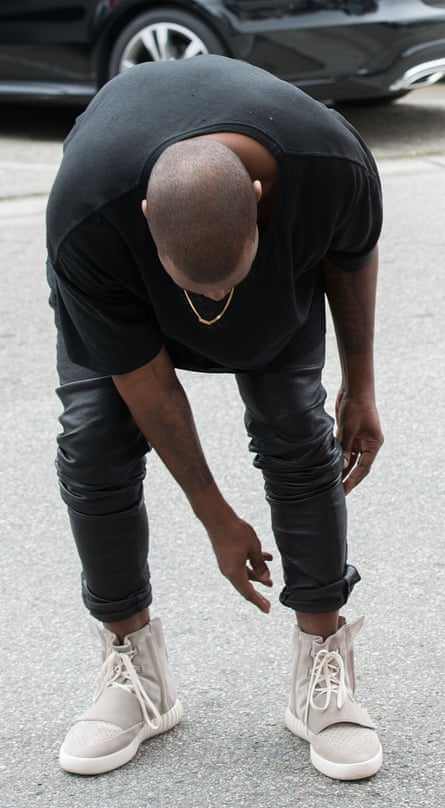 Adidas drew widespread criticism last fall for taking more than a week to break its deal with Ye after he said on a podcast: "I can say anti-Semitic things and Adidas can't dump me. What now?"
Experts say what the brand does with the sneakers could be a chance to make up for its apparent lack of action. "They can't just throw the shoes away," said Charcy Evers, an advocate for social impact and sustainability. "Adidas could use this as an opportunity to set a new standard of practice by being 100% transparent and owning up to this unique situation."
Evers said "common industry practice" for getting rid of excess inventory was simply to destroy it, but Coach, H&M and Urban Outfitters were asked about such policies.
What else can be done with a shoe that looks so unique and whose design is inevitably linked to Ye? Alden Wicker, a journalist who covers sustainable fashion, says shoes should be recycled responsibly. The company launched products that aim to reuse waste, such as the Adidas Terrex Futurecraft Loop anorak, made from recycled plastic from the ocean. Wicker suggests Adidas use Yeezys to test new designs. "It would be the perfect source material for testing, especially as Adidas knows exactly what the material's composition is, and that's crucial information for the recycling process," she said.
Shelton Boyd-Griffith, Contributing Style Editor for Essence, recommends a hybrid approach to donating recycling. "I think it would be great to repurpose shoes to be worn by other designers, or even create other shoes in-house," he said. Shoes, or other non-identifiable materials from the sneakers, may be used in existing Adidas designs. "I know it's very Frankenstein, but it might work."
The problem with this strategy is that Yeezys value is tied to the brand and not the raw materials. If they are simply used for other projects, it can be hard to recoup most of the investment. Additionally, the large amount of inventory can make it difficult to find enough alternative equipment.
A risky strategy can be to try to recover the narrative. If "transparency" is the true goal, some say Adidas shouldn't shy away from tying sneakers to Ye's comments or hiding its own brand's history. (Although the founding of Adidas predates Nazi Germany, the two German brothers who founded the company ended up playing active roles in the party, with one coaching Hitler's youth sports).
Rachel Weingarten, a brand strategist and founder of the nonprofit RWR Network, which supports Holocaust survivors, thinks the brand should start a charity that allocates items to disaster survivors. Yeezy shoes could be the first products donated, with the idea of ​​adding more for future events. "Adidas can create a new collection that addresses its story and Kanye's comments, and doesn't shy away from it," she said. "They can rename the collection in a way that shows they are an ally, not a tarnished brand."
Could Yeezys be labeled Holocaust memorial shoes? It's a strategy that's bizarrely close to one featured in an episode of Nathan Fielder's spoof business advice show Nathan for You. After discovering that the jacket he's wearing on screen was made by a company that had proud ties to Holocaust deniers, Fielder created his own line of jackets that he described as "the first outdoor clothing company to promote the true story of the Holocaust."
Weingarten says it's not such a crazy idea and that Adidas needs to do more than just release another statement against a general hateful idea. "There is so much misinformation about the Holocaust out there, history is being rewritten as we speak, and by not addressing it, many see Adidas as lenient," she said.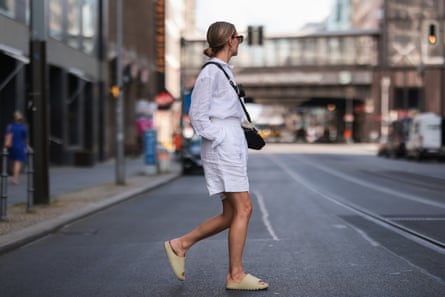 It's an almost impossible line for Adidas to tread; one wrong move can be a public relations disaster. One indicator to consider is what people who already own a lot of Yeezys are doing with their sneakers.
Zeke Hannula is a sneakerhead from San Francisco who owns around 80 pairs of Yeezys. He doubts that a recycling project on this scale could be sustainable and says many fans would buy the products if they hit the shelves again. He thinks Yeezys are not about Ye anymore.
"The vast majority of people who wear Yeezys really don't care that Ye have anything to do with the sneakers," said Hannula. "In recent years they have become really popular. You see parents wearing them because they are comfortable."
Half of Hannula's family is Jewish, and he was "very disappointed" by Ye's bigoted comments. That didn't stop him from using the sneakers. "I don't think it's a political statement to wear them – Yeezy's are pretty nondescript and not flashy, and most people don't really notice them," he said. "I know a lot of designers behind the shoes and I'm sad for the people I know who worked at Yeezy, lost their jobs and don't get to see their designs leave."
Anyone who wanted to get rid of their Yeezys following Ye's comments could sell them – Hannula said he had not seen angry fans burning or destroying their shoes in protest, as some Dolce & Gabbana shoppers did after the Italian brand resisted the his own 2018 racism scandal "I've seen some people do customs or paint over the labels," he said.
This is a move that many sneaker collectors are experimenting with. On reseller site StockX, Yeezys continue to sell apace — more than 200 pairs of bone-colored Yeezy slides have sold in the last three days, often for around three times their original price ($60). While pricey, it's significantly less than what the shoes would sell for before Adidas scrapped Ye. And 150 of the shoes are listed as "below retail price" – meaning dealers aren't making a profit.
Hannula believes the easiest thing to do would be for Adidas to just sell the sneakers, "but at a discount, and not make a profit from them. Just so they don't have that huge stock. I think they are going to lose money no matter what."